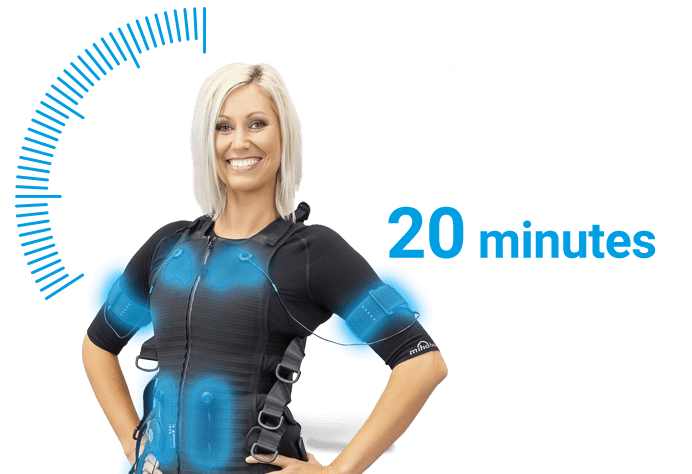 WHAT IS EMS TRAINING

EMS (electric muscle stimulation)
We use modern technology to train the body comprehensively and amazingly quickly.

It activates the whole body by using weak electrical impulses
Identical to those the body itself creates.

85 impulses/s – we engage muscles very intensively
The whole body is evenly toned and forms the way both you and nature wanted it.
INTENSIVE, FASTER, MORE EFFICIENT.
EMS (electric muscle stimulation) is the fastest way to get your body into shape, eliminate muscle imbalances and increase steady calorie consumption.
BODY EXPRESS is the fastest way to EMS. Just once a week.
OPENING HOURS: Monday to Friday  8:00 - 18:00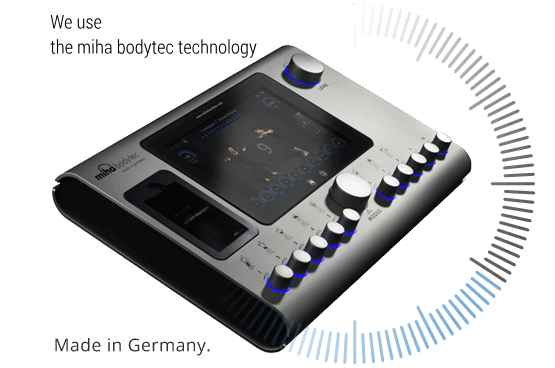 TESTIMONIALS
Lenka
/ 23 years
"I started going with a friend before summer. You know, we wanted those beach bodies, and right after the first lesson we were thrilled! We could see them right away. And the results? Visible at a glance – my bottom is tighter, my waist is thinner, and the signs of cellulite have disappeared. Now it's off to the beach!"
David
/ 43 years
"My goal was to prepare myself for a sporting event, and I also wanted to lose weight and tone my body. Besides, I felt I needed some regular training, physically and mentally. All this came true with Body Express. I'm now happy with my weight, and I think you can also see the kilos I lost. I should mention the time I saved and the maximum load intensity during exercise as huge advantages. I recommend Body Express to everyone, not just my friends."
Tomáš
/ 42 years
"I've been doing EMS for 2 years now. I don't have much time for other activities. Work, family, kids… but this year I decided to try the Ironman race – 3.8 km of swimming, 180 km of cycling and 42 km of running. My workout would normally be enough for at most 60 km on a bike or a 10 km run. But thanks to EMS, my body uses more muscles than ever before, and they share their energy with each other. That's why my body has coped, and I've fulfilled the biggest challenge I've ever faced in my life. All because of 20 minutes a week with Body Express."
Eva
/ 60 years
"I had big problems with my back. I tried to exercise, but it wasn't enough. I didn't want to accept a future without active movement. A friend recommended Body Express and the results were fast. What I couldn't accomplish in many years suddenly happened in a few weeks. I've been doing it for a year now and I'm very satisfied. My body works the way it should, my back is okay, and I can once again enjoy long walks with my dog.
EMS FOR THE FIRST TIME – HOW TO PREPARE
EMS performs a very intense workout for the body. It is essential to be well prepared:
Do not drink alcohol in the evening before training

Rest, get plenty of sleep

Drink plenty of water on the day of training

eat well so that you have enough energy
We will equip you with everything you need for EMS, you don't need to bring anything. No sportswear, no sneakers, no exercise aids. Just enough energy and a rested body.
Praha
Ústecký
Karlovarský
Plzeňský
Jihočeský
Středočeský
Vysočina
Liberecký
Královehradecký
Pardubický
Olomoucký
Moravskoslezský
Zlínský
Jihomoravský
Bratislavský
Trnavský
Trenčianský
Nitrianský
Žilinský
Banskobystrický
Prešovský
Košický
Activate your body according to your needs
SINGLE :
EMS FOR THE FIRST TIME

790 CZK

We will introduce you to the EMS technology, set the right stimulation, and you will experience an introductory training programme with a personal trainer.
CHOOSE STUDIO
I KNOW EMS

790 CZK

Have you already done EMS for the First Time? Then enjoy the most effective EMS training with a personal trainer, exactly according to your goals.
CHOOSE STUDIO
START THE CHANGE
10 week course
690 CZK / week


Total 6,900 CZK
You save 1,000 CZK
We will help acivate positive changes in your body. We will strengthen your muscle corset to make your body more resistant and stop your back pain.
You will have more active muscles and they will burn fat 24 hours a day, 7 days a week. You get a fixed weekly session with your own personal trainer.
CHOOSE STUDIO
IN GREAT SHAPE
half-year course
590 CZK / week


Total 14,750 CZK
You save 5,000 CZK
You will work on yourself for 25 weeks and everyone will see your progress but you above all will feel it.
 
You´ll be fit, your body won´t hurt, you´ll manage more, go further and be faster. You will be in great shape, and it only takes 20 minutes a week! You  get a fixed weekly session with your own personal trainer.
CHOOSE STUDIO
STILL IN SHAPE
one year course
490 CZK / week


Total 24,500 CZK
You save 15,000 CZK
To completely change your body and life.
This is our mutual goal.
This programme will provide you with consistent results.
You will have a properly and comprehensively activated muscular system that provides you  with enough energy burning and a perfectly functioning body. You´ll be satisfied with your body and stay in shape. You get a fixed weekly session with your own personal trainer.
CHOOSE STUDIO
In 20 minutes once a week you train the whole body.
2000
Kcal extra burned per person a week, thanks to 20 minutes EMS
5860
Satisfied clients every week
46880
Saved hours of exercise per week